About Edna
Welcome to Edna's Kitchen.
Feeding people has been a long-lasting obsession that is still very much alive in me. The love of good food, and a desire to share it with those around me, gives me joy. For me, food is a kind of unofficial celebration that brings people together. I have my own distinctive style, and some unique dishes that I have managed to create over the years. I get my inspiration from all sorts of great cooks. My mother Sarah is my main inspiration - she is a natural heavenly cook. Being born in a fusion of immigrants in a small place like Israel has left its mark on my food combinations. The Sephardic, Ashkenazi and Palestinian culinary put together helps create a great and global cuisine.
Healthy eco-friendly vegetarian cooking is close to my heart and that's where I feel at home. I love using local, seasonal organic (where possible) vegetables, fresh herbs, spices, grains, pulses and seeds. I avoid complicated cooking and like to keep food as fresh and natural as possible. The aroma, colours, and taste can bring you close to the earth and doesn't cost the earth. The Ayurvedic approach to food and life-style has a strong impact on my way of thinking and living.
Back in the early 1980's, when I came to the UK, the food was quite dull and boring to someone like me. I started to naturally develop a strong passion, need and urge to do more with food. It was hard to find garlic, fresh herbs, avocados, olives and more. I started exploring with what I could get and also was introduced to the English cuisine that, in my opinion, needed updating and refining but has influenced my cooking and can be very tasty too. I got into dinner parties, and then ran a small food business supplying Middle-Eastern dips to health shops. I was the first person in Bristol to sell hummus and it was my niche; not many people knew what it was back then. I had food stalls at music festivals, and I loved cooking for my family and friends. I worked as a cook at Penny Brohne Cancer Care from 2005-2006. I successfully managed the St Stephens Church Café in Bristol city centre from 2008-2012. I am now moving on to run Edna's Kitchen independently.
I can now offer to cater for your event; cooking and delivering food to individuals with special dietary needs.
Edna's Kitchen also supplies dips and salads to shops in Bristol.
In addition, I am now running a kiosk in Castle Park, Edna's Kitchen, serving food and drinks daily from 10am till 5pm.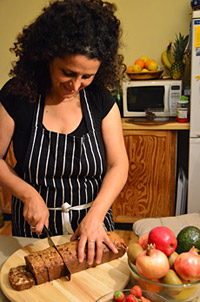 Behold, I have given you every seed bearing plant on the face of the earth and every tree that has seed bearing fruit. It shall be to you for food. For every Beast of the field, every bird in the sky and everything that walks the land that has a living soul, all plants vegetation shall be food.
Genesis 29