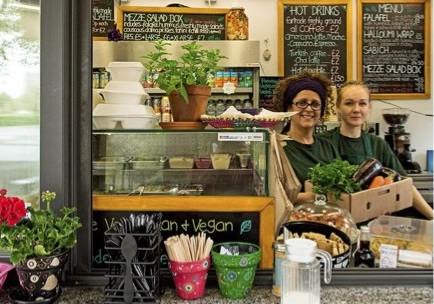 When you are looking for a healthy lunch for yourself or to share in the office, you probably know that Mediterranean and middle eastern food is among the healthiest, freshest and tastiest you can get, especially when it's vegetarian or vegan. At our kitchen you can eat our famous Falafel, Wraps, Sabich, and home made salads.
But where can you find the most authentic and yummiest food like this? Ask Edna, the woman from Tel Aviv who brought the first home-made hummus to Bristol in the 1980s, fed party-goers and festival crowds with a growing business, and landed in Castle Park with a cafe kiosk that Buzzfeed calls "a hidden gem."
Edna loves feeding people, as you can see from our reviews below, or taste for yourself next time you order from us.